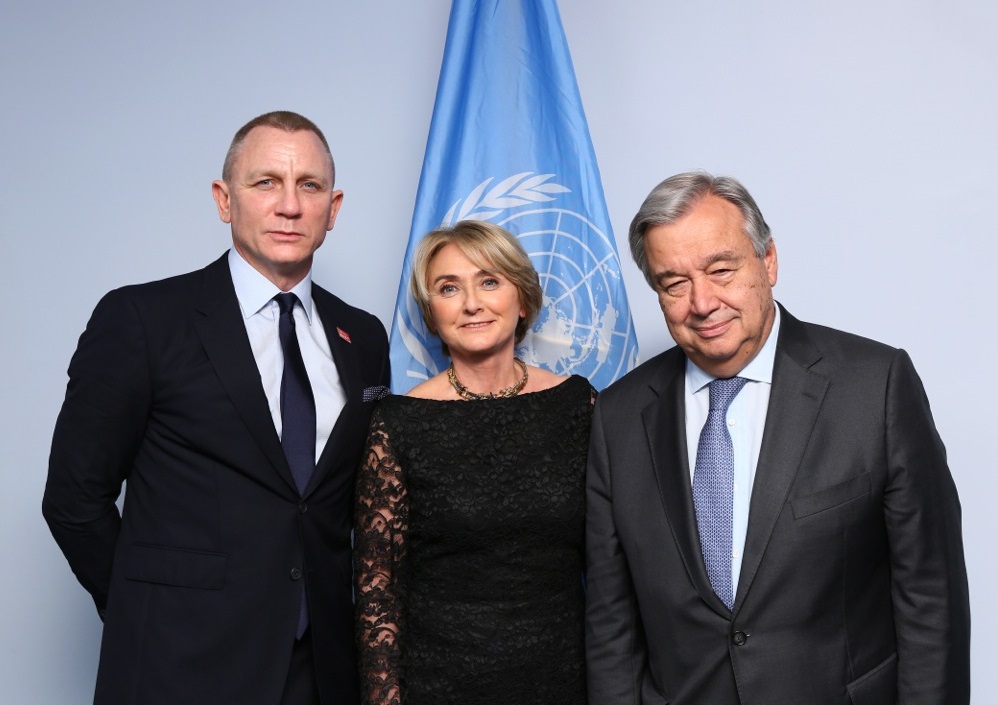 "Mine action is critical to peace and security, humanitarian response and development efforts." - Secretary-General António Guterres
The Secretary-General addressed a unique audience on Wednesday 18 october in New York City. Business leaders, philanthropists, celebrities and ambassadors were gathered for the annual UN Foundation Global Leadership Dinner. The dinner honours individuals for their outstanding leadership and commitment to advancing the vital work of the United Nations around the world.
On behalf of UNMAS, Director Agnès Marcaillou received a Global Leadership Award in recognition of UNMAS leadership in the mine action sector over the past twenty years. 
The UN Global Advocate for the Elimination of Mines and Explosive Hazards, Daniel Craig, presented Ms. Marcaillou with the award.
"UNMAS efforts make sure mines can't haunt humanity the way they have in the past," said Mr. Craig. He also praised Marcaillou's "tireless work in making the world a safer place."
"This very special award is not just recognition of my own life and work at the United Nations. It is, most importantly, an acknowledgement of the incredible work, done daily by my colleagues, for the millions of people for whom the UN is, so often, their only means of survival. They work in horrendously dangerous conditions, defusing IEDs and unexploded bombs," said Marcaillou. 
The work of UNMAS ensures humanitarian workers can safely deliver food, water and medical aid to conflict-affected communities. Children know how to avoid the risks of explosive hazards. Peacekeepers can access villages in need of protection. Displaced populations and refugees can return to their homes. And victims and their families can recover and establish sustainable livelihoods.
Currently, UNMAS works in 18 countries and territories around the world, including Iraq, Mali and Syria, partnering with national authorities and civil society.
The proceeds of the event benefit the work of the United Nations Association of the United States of America to bolster and inspire American support for the UN and the important work of its services like UNMAS.